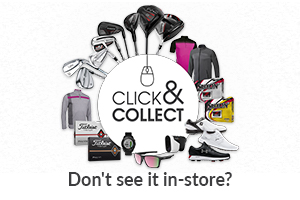 As part of the Foremost Golf buying group, we want you to be able to shop when you choose. Our FREE 'Click & Collect' service provides a convenient option of having your order delivered to Barnham Broom Golf Shop, making it the most convenient online shopping service available for all your golfing needs. It doesn't matter how big or small your order is, Click & Collect delivery is FREE.
Click here to visit our Click & Collect site.
How it works
Having selected the items you wish to purchase, continue to the checkout process. Select 'FREE Click & Collect' as your desired 'Delivery Method' and choose the most convenient collection point for you based on your Town or Postcode, then proceed to make payment of your goods.
Following completion of your order, you will receive an 'Order Confirmation' email with full details of your purchase, including your chosen collection location.
When will my item be delivered?
Once you have placed your order, it usually takes between 2 - 3 working days for the items to be ready for collection (*subject to stock availability). We will send you an email the moment your items are ready to be collected.
Please don't arrive before you receive the 'Your Order is Ready for Collection' email as your order may not yet be in store.